U.A.E. Prime Minister Announces Cabinet Reshuffle
October 19, 2017
Country will have first-ever Minister of State for Artificial Intelligence
His Highness, Sheikh Mohammed bin Rashid Al Maktoum, Vice President and Prime Minister of the U.A.E. and Ruler of the Emirate of Dubai, announced a cabinet reshuffle via Twitter. These ministerial changes follow the U.A.E. Government Meetings this month and the launch of the U.A.E. Centennial 2071 Plan.
Read more about the U.A.E. Centennial 2017 Plan here.
A significant highlight of the reshuffle is the inclusion of a new Ministry of State for Artificial Intelligence, which will be led by Omar bin Sultan Al Olama. Al Olama succeeded in leading the latest World Government Summit and state strategy for artificial intelligence, said H.H. Sheikh Al Maktoum.
Please view new cabinet appointments below.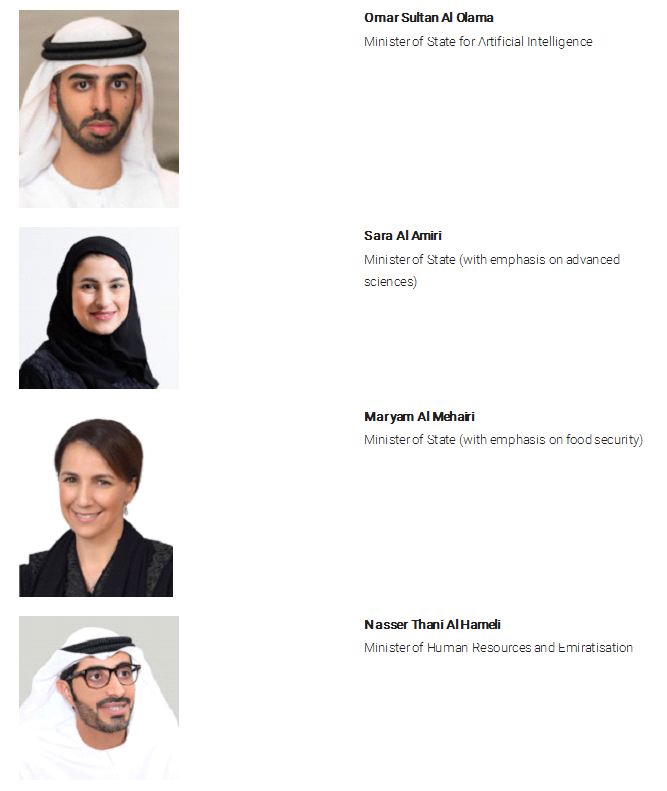 Complete list of U.A.E. Cabinet Members with new posts:
Hessa Buhumaid: Minister of Community Development
Abdullah Mohammad bin Touq: Secretary General of the U.A.E. Cabinet
Noura Al Kaabi: Minister of Culture and Knowledge Development
Suhail Al Mazroui: Minister of Energy
Abdul Rahman Al Owais: Minister of State for Federal National Council Affairs and Minister of Health
Zaki Nusseibeh: Minister of State
Sheikh Nahyan bin Mubarak: Minister of State for Tolerance
Nasser Thani Al Hameli: Minister of Human Resources and Emiratisation
Ahmad Belhoul: Minister of State for Higher Education and Advanced Skills and chair of the Federal Authority for Human Resources
Maryam Al Mehairi: Minister of State (with emphasis on food security)
Sara Al Amiri: Minister of State (with emphasis on advanced sciences)
Omar Sultan Al Olama: Minister of State for Artificial Intelligence
Back to News