Dubai Business Delegation Completes Successful Visit to Los Angeles
March 14, 2019
A high-level business delegation led by the Dubai Investment Development Agency (Dubai FDI) with its sister agency Dubai Exports completed a highly successful trade mission to Los Angeles, California this week.
The trip marked Dubai FDI's first visit to the U.S. in 2019, and included senior leaders from the Dubai Airport Free Zone (DAFZA), Dubai Exports, Dubai Science Park, Dubai Multi Commodities Centre (DMCC), Dubai South, and Emirates Airline and SkyCargo, with support provided by the U.A.E. Consulate in Los Angeles, the Trade & Commercial Office of the U.A.E. Embassy in Washington, D.C., and the U.S.-U.A.E. Business Council.
Mission participants sought to promote the opportunities and significant advantages available to companies looking to invest in and partner with Dubai, including in key sectors such as high tech, advanced manufacturing, aerospace, fast-moving consumer goods, life sciences, and logistics that support Dubai's 2030 Industrial Plan.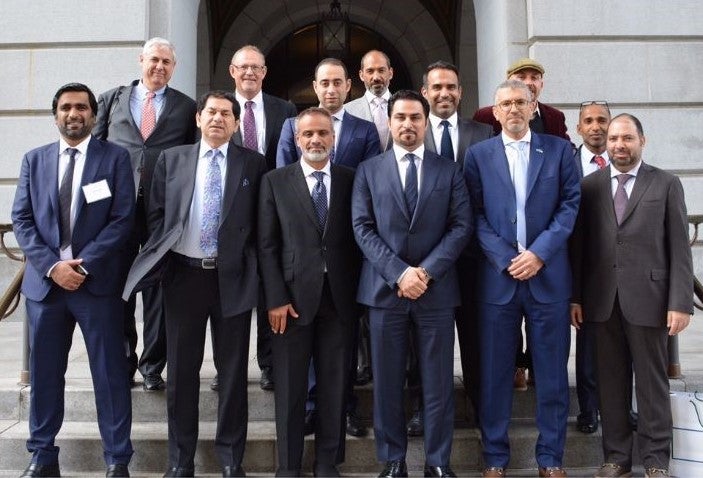 Pictured: The delegation led by Dubai FDI CEO H.E. Fahad Al Gergawi and Dubai Exports CEO Saed Al Awadi with U.A.E. Consul General in Los Angeles Abdulla Alsaboosi, and U.S.-U.A.E. Business Council President Danny Sebright
Ahead of the delegation vist, His Excellency Fahad Al Gergawi, CEO of Dubai FDI, commented, "We are convinced that Los Angeles holds exciting prospects for mutually beneficial and sustainable partnerships between Dubai and the U.S."
"We hope that we will be able to showcase the opportunities offered by Dubai to foreign investors, where the emirate not only offers global communication opportunities but also an environment conducive to doing business for international companies working in different sectors. Further, we hope to show how U.S. companies, particularly those working in export and business development, may leverage the many competitive advantages that encourage investment in Dubai as a regional or sub-regional business center."
This was seconded by Mr. Saed Al Awadi, CEO of Dubai Exports, who stated, "The U.S.A. is one of the top 5 strategic trade partners for Dubai, and we do believe that Dubai is well located to be a gateway for the U.S.A. to reach other markets."

Pictured: The delegation visits with Los Angeles Deputy Mayor for International Affairs Nina Hachigian
The delegation kicked off its visit to Los Angeles with a business seminar hosted by Emirates Airline and SkyCargo, the Los Angeles Area Chamber of Commerce, the U.S.-U.A.E. Business Council, and World Trade Center Los Angeles, at the offices of the Los Angeles Area Chamber of Commerce. The occasion provided local companies with the opportunity to learn more about Dubai's innovation-driven economy via informational presentations and direct engagement with the visiting organizations during one-on-one breakout sessions.
This was followed by a visit to Los Angeles City Hall to meet with Nina Hachigian, Deputy Mayor for International Affairs, and the office of Los Angeles Mayor Eric Garcetti. According to H.E. Al Gergawi, "Los Angeles is already a major exporter of varied agricultural produce, transportation equipment, computers, and electrical products, as well as services in the software, legal and academic domains to the U.A.E."
Before concluding their time in Los Angeles, the delegation held private meetings with senior executives from local industry. Companies included:
JERDE: An architecture and urban planning company that provides creative design and planning services for major projects worldwide
Nantworks: The umbrella organization for Dr. Patrick Soon-Shiong's technology ventures
Hyperloop Transportation Technologies: A research company developing a transportation system based on the Hyperloop concept
Los Angeles Blockchain Lab: A public-private partnership to educate and innovate in the blockchain space
H.E. Mr. Gergawi echoed the success of this visit by reiterating the importance of Los Angeles as a strategic trade partner of Dubai, as evidenced by the recently signed MoU between Dubai FDI and World Trade Center Los Angeles. H.E. Mr. Gergawi underscored the importance of a follow-up visit in the near future.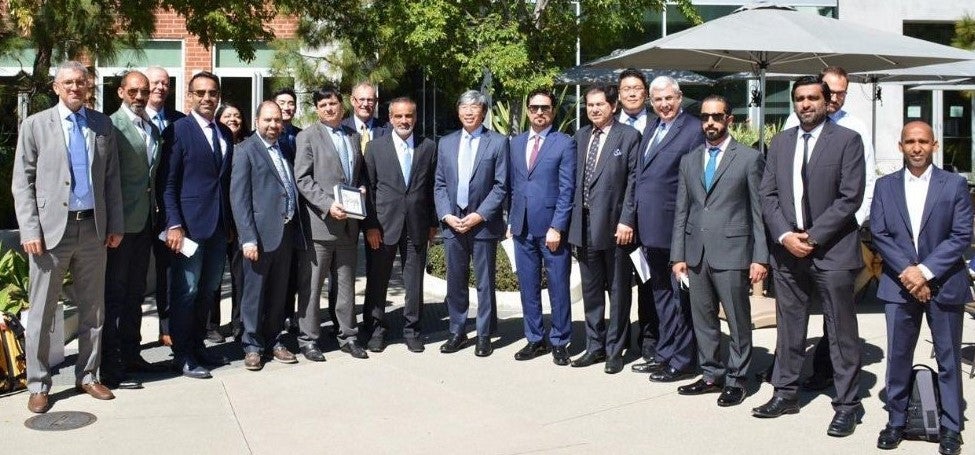 Pictured: The delegation with Nantworks Founder Dr. Patrick Soon-Shiong
The U.A.E. has been the U.S.'s largest trade partner in the Middle East and North Africa region for the past ten years. In 2018, there was over $24.5 billion in total cross-border trade between the U.S. and U.A.E.
Back to News