The U.S.-U.A.E. Business Council hosted Manal AlBayat, Senior Vice President for Business Development and Integration at Expo 2020 Dubai, for a roundtable luncheon at The Carlyle Group in New York City. Manal was joined by His Excellency Majid Al-Suwaidi, U.A.E. Consul General in New York, Gillian Hambuger, Vice President for Commercial at Expo 2020 Dubai, and senior executives from Fortune 100 companies and the regional business community.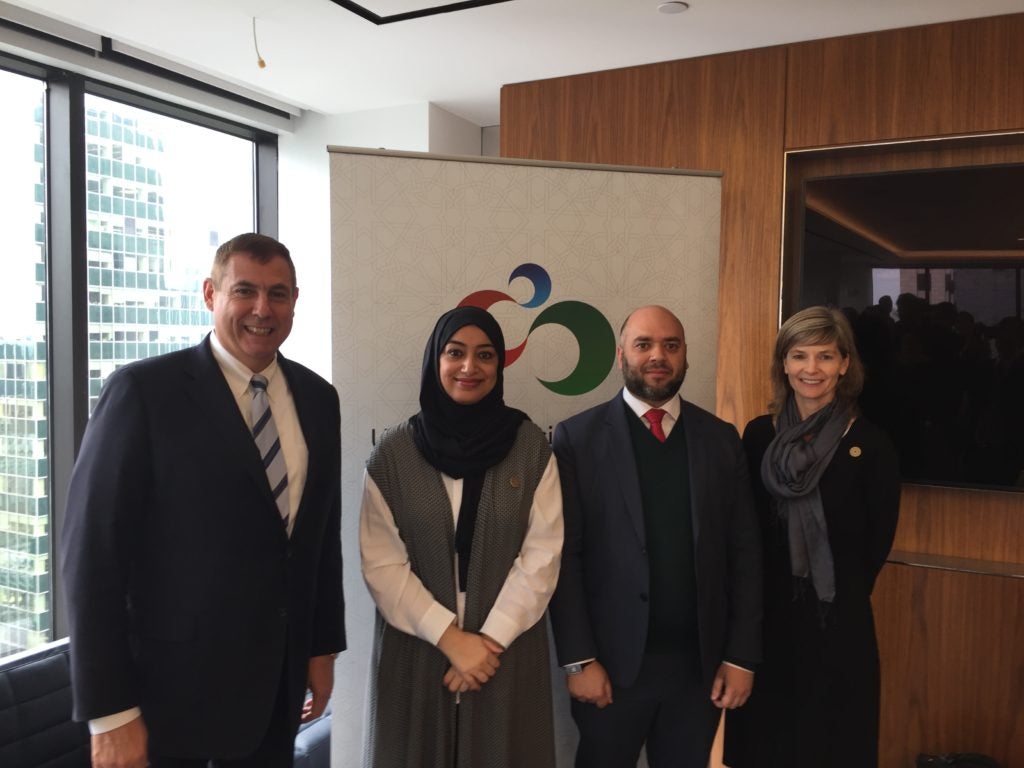 From Left to Right: Danny Sebright, President of the U.S.-U.A.E. Business Council; Manal AlBayat, Senior Vice President for Business Development and Integration at Expo 2020 Dubai; His Excellency Majid Al-Suwaidi, Consul General of the United Arab Emirates in New York; and Gillian Hamburger, Vice President for Commercial at Expo 2020 Dubai.
Andrew Curry, Managing Director, Investment Relations Management Group at The Carlyle Group welcomed guests to the briefing. U.S.-U.A.E. Business Council President Danny Sebright introduced the discussion by noting the importance of world expos and the sheer scale of these events. Expo 2020 Dubai is expected to attract 25 million visitors between its opening day on 20 October 2020 and its closing on 10 April 2021. Many of these visitors will be experiencing a world Expo for the very first time.
His Excellency Majid Al-Suwaidi spoke to the significance of Expo 2020 Dubai for the U.A.E. and noted how the U.A.E. has embarked on the construction of a new city, Dubai South, around the Expo that is projected to sustain a population of one million people and create 500,000 jobs. He emphasized the importance of legacy for the site after Expo 2020 has concluded. This southern district of Dubai already hosts what will be the world's largest airport, Al Maktoum International Airport, capitalizing on the U.A.E.'s strategic location, advanced infrastructure, and unrivaled connectivity. It is also strategically located adjacent to Jebel Ali Port.
His Excellency highlighted the unique nature of Expo 2020 Dubai, remarking, "Expo 2020 is the first World Expo to take place in the Middle East, Africa, and South Asia region. The UAE's strategic location will provide business and government leaders an immense opportunity to connect with one of the most dynamic, young, and fastest-growing areas in the world."
Ms. AlBayat provided an update on Expo 2020 Dubai. She reviewed the progress to date in the design and construction of the Expo site. She also outlined the opportunities that Expo 2020 offers U.S. businesses. In so doing, she drew attention to Expo 2020's transparent and easily navigable eSourcing portal as the main gateway to the majority of Expo 2020's procurement activity.
She also underscored Expo 2020's commitment to SMEs, as illustrated by its pledge to allocate 20% of its total direct and indirect spend, representing more than 5 billion AED [$1.36 billion] in contracts, to local and international SMEs.
Commenting on her visit to the United States, Ms. AlBayat said, "Expo 2020 Dubai will provide businesses from around the world with the chance to showcase their capabilities on a global platform. We are pleased to be here in the U.S., host to many previous World's Fairs, to connect with the American business community and reinforce the benefits which Expos provide."
"We want companies around the world, both large corporates and SMEs, to be aware of the opportunities that exist at Expo 2020 Dubai, and the mechanism of how they can be involved, to help us deliver a remarkable World Expo and benefit from a unique environment that will encourage connectivity and offer greater access to new markets."
Following her presentation, participants enjoyed an engaging discussion about other aspects of Expo 2020 Dubai such as Expo Live. The Expo Live program has a fund of $100 million to back projects that offer creative solutions to pressing challenges that impact people's lives or help preserve the world.
For more information about Expo 2020 Dubai, please look out for regular updates from the U.S.-U.A.E. Business Council, which is proud to serve as Chair of the Expo 2020 U.S. Standing Committee along with its partners AmCham Abu Dhabi and the American Business Council of Dubai & the Northern Emirates.
Please click here for Ms. AlBayat's presentation, which provides details regarding the scale of Expo 2020 Dubai and highlights partnership opportunities for small and large businesses.