Dubai Business Delegation Completes Successful Visit to Houston
September 11, 2019
The Dubai Investment Development Agency (Dubai FDI), in partnership with the U.S.-U.A.E. Business Council, led a high-level business delegation to Houston from the 8th-11th of September.
Delegates included senior leaders from Emirates Airline, the airline's cargo wing Emirates SkyCargo, Jumeirah Hotels and Resorts, Dubai Multi Commodities Centre (DMCC), Dubai FDI, Dubai Exports, and Jebel Ali Free Zone (Jafza), with support provided by Bracewell LLP, Seyfarth Shaw LLP, the U.A.E. Consulate in Houston, the U.A.E. Embassy in Washington D.C.,  and the U.S.-U.A.E. Business Council.
The delegation's visit to Houston reinforced Dubai's longstanding commitment to bolstering trade ties and investment with major U.S. cities. Ahead of the mission, Fahad Al Gergawi, CEO of Dubai FDI, stated, "The contingent from Dubai, which is renowned for its business-friendly environment, will take advantage of the opportunity to strengthen investment and trade relations between the UAE and US. We will achieve this by engaging with concerned government and private sector organizations and discussing collaborative efforts as we work towards advancing our mutually beneficial initiatives and interests."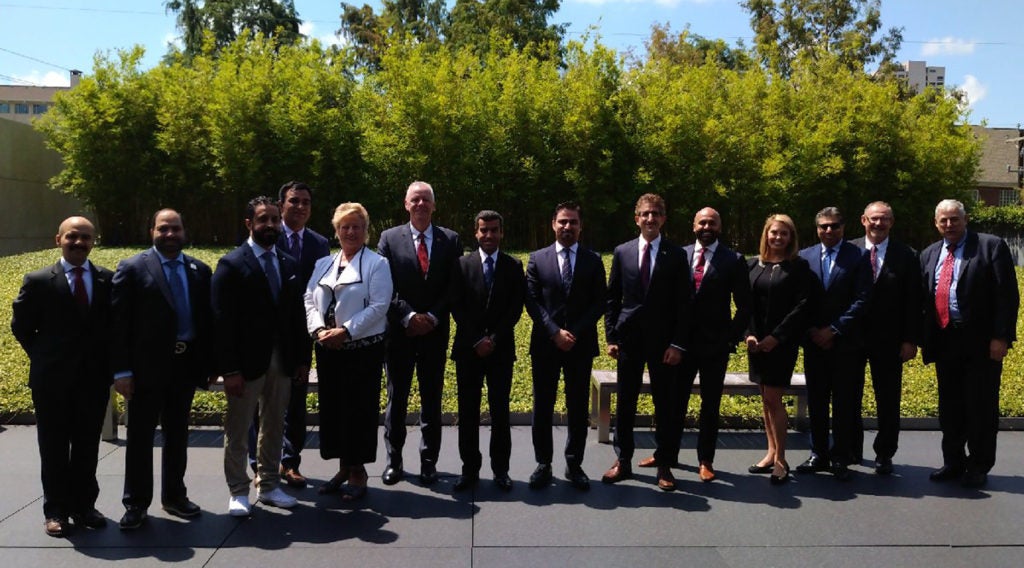 The Houston trip featured two business seminars, the first supported by Seyfarth Shaw law firm and the Asia Society at the Asia Society's Houston location, and the second at the offices of Bracewell LLC. Through a series of informational presentations by Dubai FDI, the Consul General of the U.A.E. in Houston, the U.S. Commercial Service, members of the delegation, and the U.S.-U.A.E. Business Council, representatives from local companies learned about investment opportunities in Dubai.
Break-out meetings following the presentation afforded attendees time to engage directly with the visiting delegation and discuss opportunities for engagement between Houston and Dubai. The two business roundtables resulted in meetings between the delegation and over 175 business executives.
Other highlights included:
Connecting with Andy Icken, Houston's Chief Development Officer
Touring Houston Spaceport, a center that promotes collaboration across industries to accelerate key aerospace engineering activities
Visiting McLane Global, a Houston-based food products logistics company
This trip marked Dubai FDI's second trip to the United States this year. Following a successful visit to Los Angeles in March, Mr. Saed Al Awadi, CEO of Dubai Exports, lauded the strategic partnership between the U.S. and Dubai, stating "we do believe that Dubai is well located to be a gateway for the U.S.A. to reach other markets."
This Houston mission successfully built on the strong existing U.S.-U.A.E. trade relationship. The U.A.E. has long been the largest trading partner of the U.S. in the MENA region, and Dubai views the U.S. as one of its top five strategic trade partners. Texas enjoys an especially robust trade partnership with Dubai, listing the U.A.E.  as one of its top destinations for foreign direct investment.
Back to News